Wine Tasting in Rosario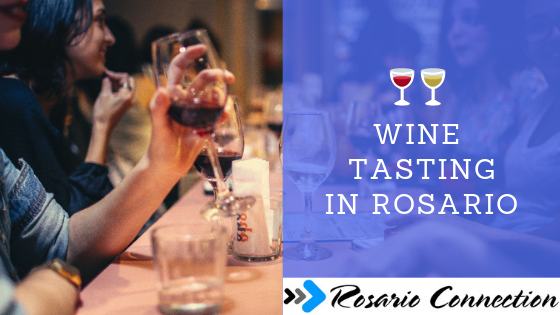 Nowadays, Argentina is synonymous with Malbec – this grape originally from the South-West of France (Cahors) found its way to the vineyards of the Andes Mountains when it was introduced in 1853.
But Malbec isn't the only type of wine that can be found in Argentina, there are many varietals which are worth trying while visiting Argentina such as the Torrontes, a sweet white from the North or the Merlot from Río Negro.
If you look at the map below, you'll noticed that Argentina's wine region is spread over very varied landscapes from the high deserts of the North (purple) to the high altitude vineyards of Mendoza (Cuyo – red) and the cooler plains of Patagonia (green).
From top to the bottom, that's over 2700 km (1700 miles).

As I have been perfecting my knowledge of local wines and got to enjoy some really nice Argentine Wines, I have decided to organise Wine tastings in English in Rosario. 
I also want to show visitors that there is more to Argentinian wines than Malbec. (Unless you wish to get a full on Malbec Experience with a 4 Malbec Tasting Experience – white, rose, red and sparkling)
During our fun and relaxed session,  I will accompany a professional sommelier and we will take you on a virtual journey around Argentina. You will taste a variety of premium Argentine wines from different regions and grapes. 
You will be enjoying:
2 hours of wine tasting in English in the center of Rosario

Tasting of a min of 4 Premium Wines of Argentina (white, red, and sparkling)

The company of a small group of fellow traveling wine lovers (min 2 to 10 pax per group)

A session led by a professional sommelier

Generous ham and cheese platters (1 for every 2 guests)Â 
We will be able to answer all your queries about the varieties and characteristics of the different wines and regions and also about pairing wine with food.
Depending on the size of your group, we will meet in a quiet winery near the River at Puerto Norte or a charming restaurant near the National Flag Memorial (Monumento a la Bandera), right in the heart of the city.
If you have any mobility issues, please contact us prior to booking a tour as we will do our best to accommodate your group at a different venue (subject to availability).
Our tasting can be conducted in English, Spanish or French.
Our Wine Experiences last 2 hours  (6.30 pm 'til 8.30pm) and are available on Tuesdays, Thursday, Fridays and Saturdays. If you are interested in a tasting outside of these timings, please filling the form below and give me an indication of your prefered timings. We will also  do our best to accommodate last minute enquiries. 
 
 Cost is:
$85 USD per person
(discount for groups of 3-10)
Enquiry Form from Wine Tasting in Rosario