We are now 30 days away from the start of the Dakar Rally in Rosario.
The city of Rosario is busy giving the final touches to many projects such as road improvement near the Flag Memorial, remodelling of the river front area which will host the Dakar Village in order to welcome this international race.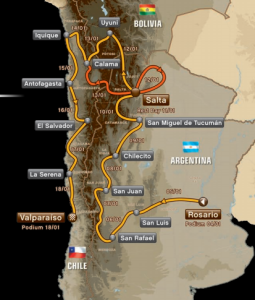 Some 670 Bikes, Quads, Cars, Trucks  and Support vehicles participating in the race left Le Havre, France on 22nd November 2013 and should arrive in Buenos Aires on 30th of December. Europeans participants and their teams will be arriving in the city of Rosario after being reunited with their vehicles.
Rosario is getting ready to welcome the thousands of spectators expected on 4th and 5th of January 2014. Over 500 volunteers are being trained to welcome and help participants, their teams and visitors and will be located all around the city in many strategic points before and on the start of the rally.
Teams and visitors are now finalizing their arrangements for accommodation, activities and dining in Rosario. Â All of the hotels in Rosario are already fully booked and the remaining teams are looking into rentals options.
I am still getting some requests for accommodation and I should be able to help with you with alternatives for hotels and apart-hotels. Indeed, many flat owners in Rosario decided to rent out their own flat during the race to meet the huge demand. I have a selection of 2-/3-bedroom family flats located in the centre of Rosario. Please note that they are not rental holiday units but actual apartments usually inhabited by families but their owners are making arrangements to go somewhere else during the first week of January and welcome people in their homes.
If you are looking for information about what to do in Rosario, where to eat and where to stay, just get in touch and I'll do my best to help you.
[contact-form-7 id="715″ title="Contact us page_copy_copy"]