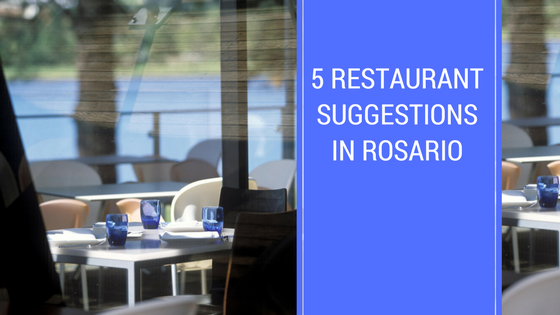 5 restaurant suggestions in Rosario
Eating out in Rosario is a pleasure!
There is a large selection of restaurants ranging from traditional "Parilla" (barbecued meats) restaurants to trendy music joints and romantics restaurants.
Here are 5 suggestions of places to eat in Rosario, Argentina.
1 –Lova is a nice restaurant and good choice for dinner.
Lova Restaurant
2 – La Marina: Traditional seafood place located very close to the Flag Memorial
Restaurante La Marina
3 – Los Jardines: A lively restaurant right by the river with a great menu and friendly atmosphere.
Los Jardines
4 – La Estancia – One of the oldest parillas of Rosario, excellent meat and great atmosphere. Good option for large groups.
Parrilla La Estancia
5 – One of my favorite places in Rosario would be "Refineria" located in Pichincha – neighborhood close to the center of Rosario. Parrilla meet fine dining.
Restaurant Refineria
If you are planning to eat out on a Saturday night (after 9.30pm), make sure to book a table as most restaurants will be full and you may have to wait for a table.
Hope you have a nice stay in Rosario!