The Flag monument is one of the main attractions of the city of Rosario, Argentina and they certainly are making the most of this impressive site. All year round, there are cultural events taking place at the monument in the evening. So if you are visiting Rosario, be on the look out for free concerts, films/documentaries screenings and other cultural events, as the Flag Monument is a great location for evening events.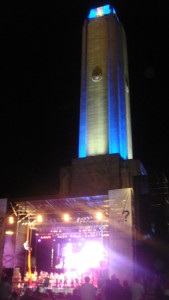 Here are some of the forthcoming FREE events held at the flag monument:
– Friday 2nd December 2011 @ 9pm
The Rosario Symphonic Orchestra performing their end of the year program.
– Thursday 8th December 2011 @ 9pm ( National Holiday in Argentina)
Performance of Misa Criolla of the late Ariel Ramirez.  "Misa Criolla," widely regarded as a stunning artistic achievement, combined Spanish text with indigenous instruments and rhythms.
– Saturday 17th December 2011 @ 9pm
Electro-Opera / Fusion between classical and electronic music directed by Nelson Coccalotto
– Monday 12th December 2011 @ 9pm
Argentine Christmas Carols
– Monday 26th December 2011 @ 9pm
"Rosario Says Goodbye to 2011" – Traditional end of the year show
Do get in touch if you want more information about the Flag Monument or what to do in Rosario, Argentina.
Send me an email via the "Email me" contact box at the foot of this page.