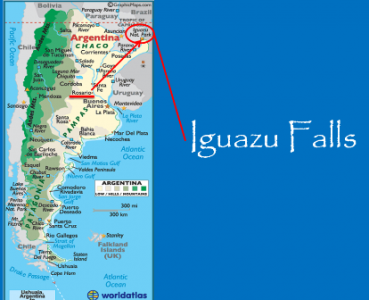 It is no surprise that one of the most beautiful sites of Argentina was nominated and then chosen as one of the seven New Natural Wonders of the World, the Iguazu Falls are located in North-Eastern part of Argentina on the borders with Brazil and Paraguay.
Iguazu Falls, also referred to as Iguassu Falls and Iguaca Falls, with its 2 million visitor a year is a one of the major attractions of Latin America.
It takes about the same time to go to the Iguazu Falls from Rosario that it does from Buenos Aires and that's why many travelers choose to go there straight from Rosario.You should allow between 18 and 20 hours to reach Puerto Iguazu, which is the city closest to the breathtaking falls.
You certainly need more than just one day to visit the falls but if you have limited time in the area, I would recommend staying on the Argentine side. The Argentine National Park is so big that you will need at least 8 hours to walk all the foot paths and take the couple of train and boat rides.
Ideally the falls are best admired in 2 to 3 days. (One day to explore the Argentine side, one day to admire the falls from the Brazilian side and a third day to enjoy the jungle and take a boat ride).
I had the pleasure of visiting the falls earlier this year and I felt in love with the scenery and these breathtaking water falls!
Here is an article I posted recently on my favourite 5 spots to admire the falls.
Iguazu-Falls Seven Natural Wonders of the World